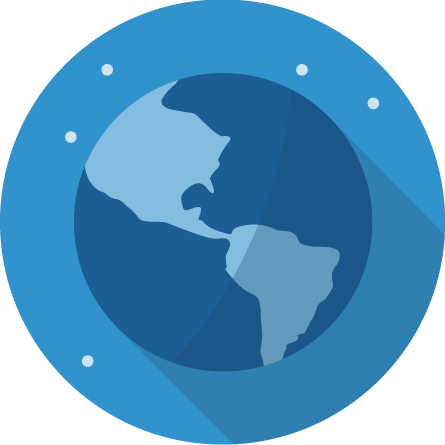 Create green jobs for the people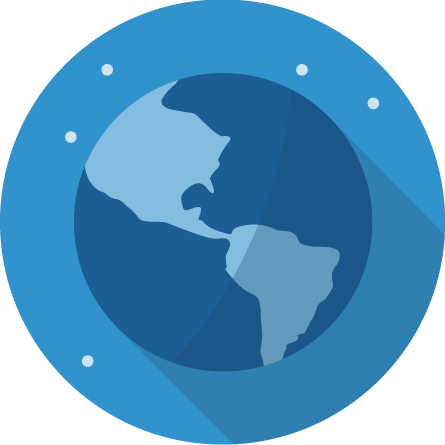 Ensure a 'just transition' for workers and frontline communities through prioritized investment, training, and green job opportunities that are restorative to people and the planet.
Extractive industries, particularly in small towns and rural communities, are often the largest employers and a bedrock of local economies. When communities are dependent on industries like coal mining in Appalachia, logging in the Pacific Northwest, tar sands in central Canada, refinery towns in the Gulf, and countless other places, the decline of those industries can have devastating impacts on the economy and working people.  
The term "just transition" was first used by trade unionists who were working to transition workers and communities who were dependent on polluting industries to more environmentally and economically sustainable livelihoods. While our policies need to rapidly phase out fossil fuel and dirty energy industries–from extraction to processing to waste–any policy aimed at energy transition must ensure a just transition for workers and frontline communities.
To ensure that a transition to regenerative economies is just, we must ensure workers within those industries have stable, safe, and equitable alternatives. This "no worker left behind" approach means guaranteeing that their livelihoods are protected and that "green jobs" are synonymous with education and training, strong unions, worker-owned cooperatives, a living wage, protected pensions, and comprehensive benefits. 
Furthermore, communities that have shouldered the burden of pollution and climate change impacts, and have never had consistent access to employment, with extractive industries or otherwise, should be specifically targeted for green job opportunities in the solidarity economy. Prioritizing frontline communities–those most impacted by poverty and pollution— for "green" and "blue" (ocean-based) job training, climate resiliency initiatives, and community economic investment will address the twin injustices of inequality and climate change. This shift in resources must happen across geographies, from urban centers, to coastal communities, to restoration of public lands.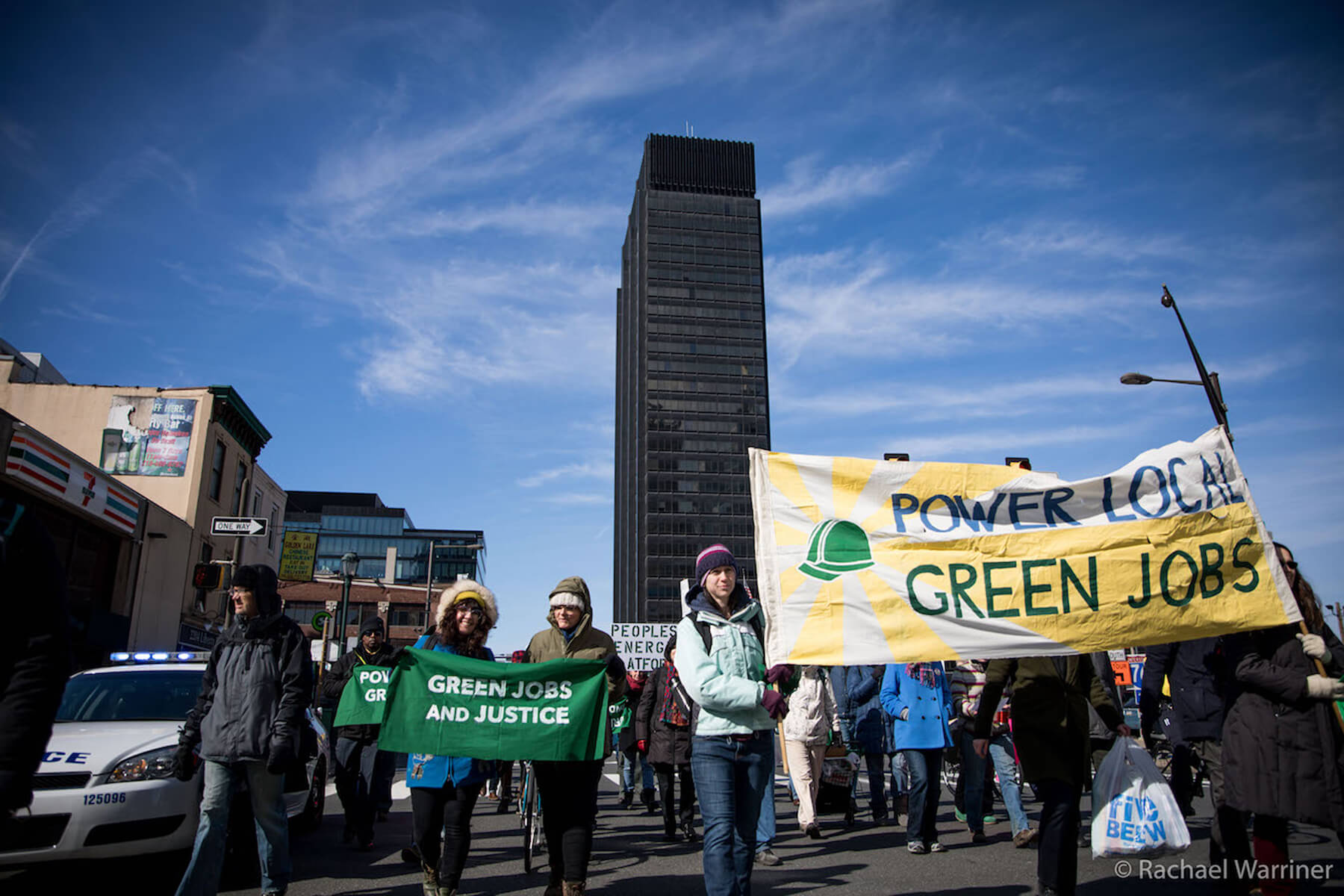 Establish a just transition for workers in extractive industries
Wage replacement,

health care and pension contributions, wage insurance, retraining opportunities, peer counseling, job search and relocation expenses

for dislocated extractive industry workers.
For example:
The RECLAIM Act (HR 2156)

commits $1 billion to clean up dangerous and abandoned mine sites. This initiative would immediately invest in both ecological and economic restoration for communities in coal country who are dealing with pollution, unemployment, and staggering rates of Black Lung and other health effects. The RECLAIM Act would put former miners back to work, improve water and air quality, and provide the foundation for diversified local regenerative economies.
Invest in green and blue job training and opportunities for frontline communities
For example:
Little Village Environmental Justice Organization and a broad coalition of working class, labor, and social justice organizations organized for a huge victory in 2016 with the passage of the

Future Energy Jobs Bill

in Illinois. Now the campaign for the

Illinois Clean Energy Jobs Act

is building on that victory and  aimed at transitioning Illinois to 100% renewables while prioritizing low-income communities for cost reduction and job opportunities during the transition. The comprehensive bill promotes equity in green jobs through Clean Job Workforce Hubs, preferences for companies that ensure equitable employment, and contractor incubator program. Furthermore, the bill ensures that Illinois is 100% renewable energy by 2050, expands Solar For All, and drastically reduces the number of gasoline powered cars on the road. 

Blue New Deal

for coastline communities and fishing economies.  65% of fishermen believe they will be forced out of the industry by climate change, yet there is huge potential to protect and invest in coastal economies to bolster climate resilience and green economy solutions. GreenWave, Ocean Collectiv, and Surfrider Foundation recommend these key strategies:

Put coastal communities to work replanting and restoring our coastal ecosystems

Invest in technology and job opportunities that sources renewable energy from offshore wind and waves

Decarbonize, modernize, and cooperatize ocean industries from fishing, to shipping, to tourism. 

Expand regenerative ocean farming to create millions of jobs and build sustainable ocean food systems.

Civilian Conservation Corps: The CCC was one of the most far-reaching initiatives of the New Deal. The program provided millions of jobs and was responsible for the planting of 3.5 billion trees. A revitalization of the CCC, or other publicly-funded initiatives, within frontline communities could create high-quality jobs building green infrastructure, replanting forests and other native species, restoring marshes and wetlands, tending to wildfire-prone geographies, strengthening flood and erosion areas, and investing in numerous other methods of climate resiliency and ecological restoration.
Invest in protections, higher wages, and benefits for workers in the "care economy"
Just as we are investing in jobs in renewable energy, zero waste, and infrastructure development— sectors that have historically employed majority men at good wages— we must also invest in economic sectors that have had lower wages, but are low-environmental-impact and high-public-good. Many of these sectors have have typically employed women and been built by feminized labor. This includes childcare, education, nursing, and eldercare. Investments and expansion of "green jobs" should be inclusive of all of these sectors and aimed at employing many different demographics and communities who have been under-employed and under-invested in. 
For example:
Domestic Workers Bill of Rights

. The two fastest growing employment sectors in the US are renewable energy and home care workers. Eight states and one city (

Seattle

) have passed legislation protecting the rights of domestic workers, most of whom are immigrant women of color who do not have traditional labor protections. Domestic workers include nannies, housekeepers, gardeners, home care workers, and cooks. Most versions of the Domestic Workers' Bill of Rights guarantees wage standards, overtime pay, meal breaks, rights to organize, injury compensation, and retirement benefits.
Invest in job training, higher wages, and benefits for artists and cultural workers
History shows us the crucial role of storytellers, cultural workers, and artists in societies that are navigating seismic shifts. We must be able to expand our collective imagination of what's possible and create a shared vision of a climate future that is worth surviving for. Novelists, muralists, photographers, artists, faith workers, and other cultural workers will be our communities' indispensable guides.
For example:
Federal Art Project (1935) was the largest of the Works Progress Administration art projects during the Great Depression. The project was the visual arts wing of the New Deal arts projects and support 10,000 working artists to create 200,000 pieces as well as run 100 community arts centers. In Milwaukee, as part of the Milwaukee Handicraft Project, up to 5,000 people who had been previously unemployed to age, gender, or disability, were given work in producing quilts, rugs, prints, books, furniture, and other furnishings, that were then purchased by schools, hospitals, and other municipal institutions. 
Support student and/or worker-led climate justice planning towards emissions neutrality, climate resiliency, and just transition of major employment sectors and education institutions.
For sectors that are not explicitly related to environment, food, energy, water, waste, or climate, it is still necessary to develop comprehensive climate justice plans. Factors to consider include:
Procurement contracts: How far away is the employer sourcing food, supplies, and energy? 
Transit for workers and students: Are they subsidized for biking, taking public transit, or carpooling to work? 
Building and facilities: Where is energy sourced from? What building materials were used? What is the weatherization of buildings and facilities? 
Waste: Are there waste reductions plans? Are there comprehensive compost and recycling systems?
For example:
The Big Green Buy

: As of 2010, the federal government

"owns or leases more than 430,000 buildings (mostly large office buildings) and 650,000 vehicles. The federal government is the world's largest consumer of energy and vehicles, and the nation's largest greenhouse gas emitter. Add state and local government activity, and all those numbers grow by about a third again." A redirection of government purchasing and procurement contracts could dramatically shift the US economy to be more economically just, locally focused, environmentally sustainable, and authentically democractic. 

Started in Los Angeles, the

Green Janitors Program

serves as a model for government-owned building maintenance policies all over the country. A third of global greenhouse gas emissions are related to buildings, so the possibility of dramatically reducing those emissions depends on the leadership of the workers who maintain them. By further building the environmental skills and knowledge of workers who are the experts on the ins-and-outs of buildings they work in, it is possible to reduce consumption, increase efficiency, use sustainable materials and cleaning supplies, and comprehensively shrink the footprint of government-owned real estate.