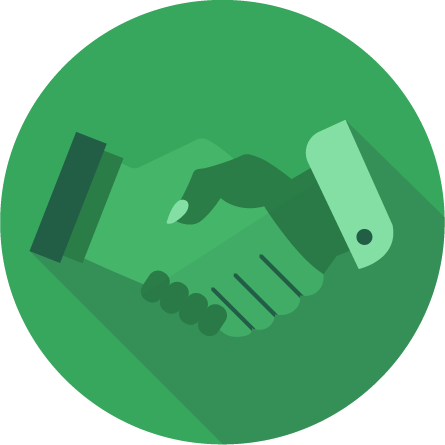 Illinois Limited Worker Cooperative Association Act
Scale of policy change (local, state, national): State
WHO – Illinois Coalition for Cooperative Advancement, a coalition of worker cooperatives, incubators/developers, economic justice organizations and other stakeholders in the cooperative ecosystem 
WHAT – State law passed to include worker cooperatives as a business entity recognized under law 
WHERE – Chicago, IL 
WHEN – Coalition came together in January 2019. LWCAA signed into law on August 9, 2019.  
WHY – To provide explicit recognition to worker cooperatives in Illinois. To provide more opportunity and structure for worker-owners to maintain control over their businesses, specifically for startup cooperative businesses in working class Black & Brown communities in Chicago.
INTERVIEWED: Renee Hatcher, Assistant Professor of Law and the Director of the newly named Community Enterprise and Solidarity Economy Law Clinic at The John Marshall Law School- Chicago. Member of the Illinois Coalition for Cooperative Advancement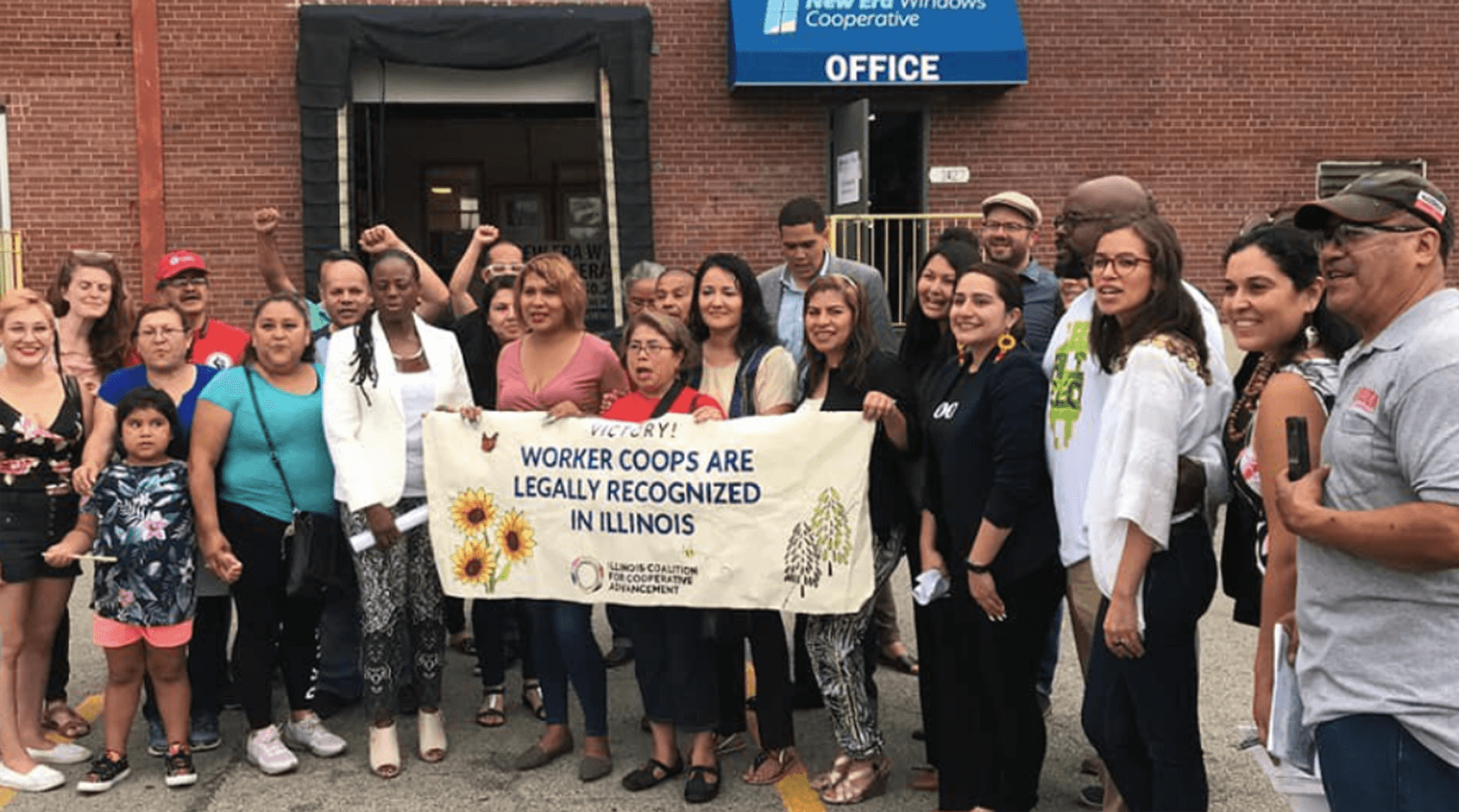 What's the policy + why?
The Illinois Limited Worker Cooperative Association Act (LWCAA) works to provide more pathways for workers to maintain control of their businesses. The LWCAA is a state law passed to include worker cooperatives as a business entity recognized under law. The act establishes an entity that is a mix between a worker cooperative corporation and a limited liability company: a limited cooperative association. 
To challenge the existing structures that tend to benefit investors who are not worker owners of a coop (and who are therefore not depending directly on the business), the Act creates a specific entity where workers of the co-op have to own at least 51% of the business. Outside/community investors can exist, but they do not have voting power on the business unless the worker-owners decide so. (The Act also has a securities exemption, so they do not have to go through the same kind of lift that a lot of coops require to raise money from investors.) It also allows for additional ownership of stakeholders like producers or consumers, depending on the co-op, and allows for flexibility. It provides more structure for members to truly govern their businesses. 
The Act also ensures that worker-owners do not need work authorization to become members of a co-op and that all members of worker cooperatives are classified as owners, not employees.
Who decides?
Illinois state legislature.
Who is the community? What is their history?
The Illinois Limited Worker Cooperative Association Act is primarily meant to support people who are already in worker cooperatives in Chicago, but also to open pathways for those who might want to pursue cooperative businesses as an income-generating and wealth-building strategy. 
The community is working class people of color in Chicago. The majority of the worker cooperatives in Chicago are owned by Latinx and Black people – and a majority of those, by Latinx worker-owners, although there is a recent increase in Black-owned worker cooperatives as well. Most are startups, with an influx of worker-owned cooperatives in the last 5-15 years. Worker-owners are coming from communities where they have difficulty finding work, or if they do, it is inconsistent work they cannot depend on, and where they experience exploitation on the job. People are working to develop their own businesses so they can own their labor and have more choice in what their work is. These worker-owners are building co-ops that intend to address their community's needs and serve the community directly. Many businesses are centered around culture, food, and cooking, but others focus on areas like transportation and childcare. They are working to create systems that work for them and represent the strong history of self-determination and cooperation in Black & Latinx communities in Chicago. 
The landscape of worker cooperative development in Chicago is active and decentralized. It is based on relationships, and in neighborhoods, and continues to evolve in a hyper-local way. A lot of work is happening to bring people together and build coalitions around various issues.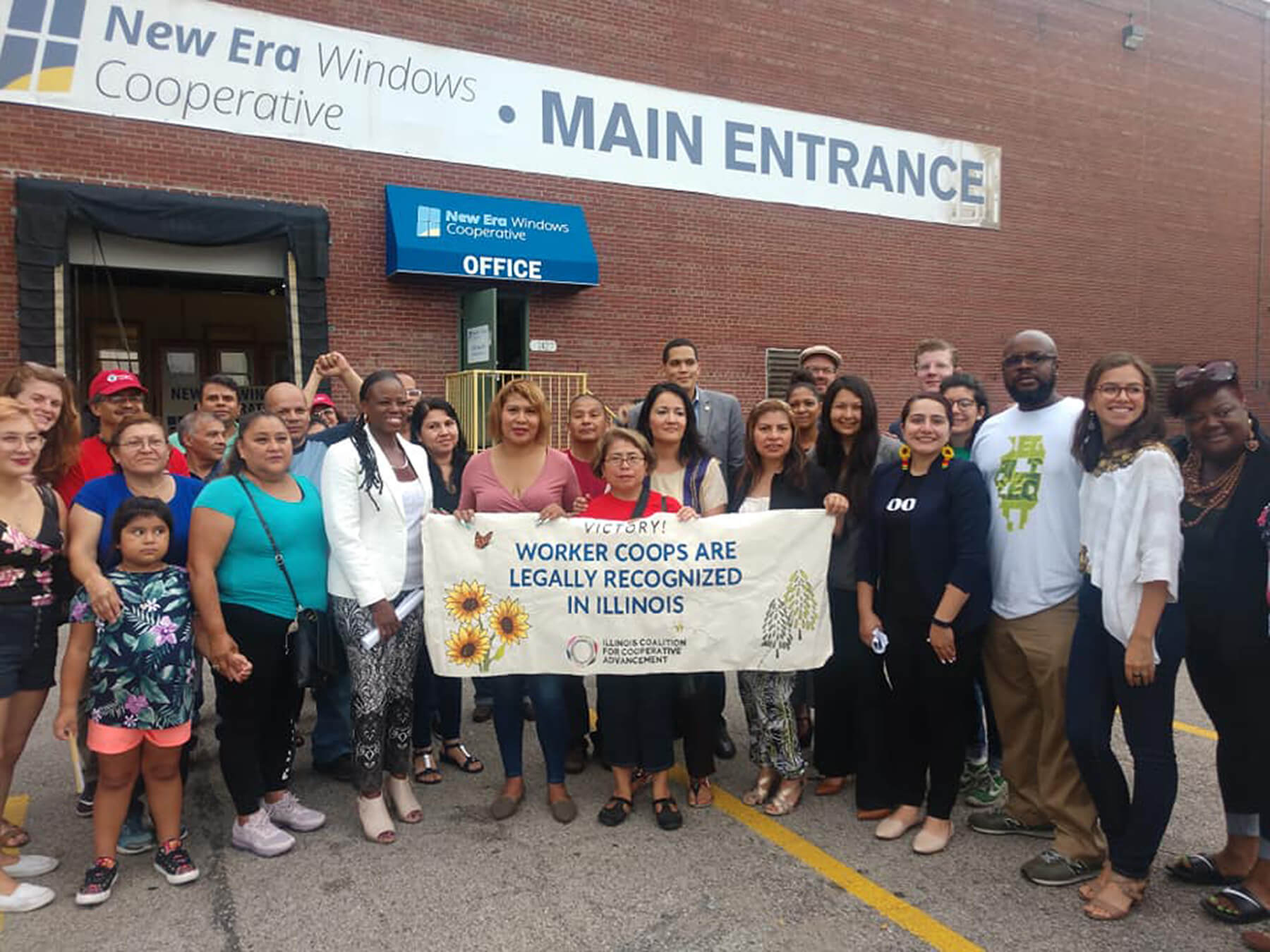 What is the problem they're working to address?
In the state of Illinois, there was no legal recognition of worker cooperatives before the passing of this law. Existing laws were only written for consumer and producer co-ops. The intention was to enshrine worker cooperatives in law to give them legal legitimacy which could lead to  more governmental and institutional support. 
The law was also designed to specifically support startups. Most of the worker co-ops in Chicago are startups, and as with any business, the first years of a cooperative can be difficult. This often has to do with not having significant capital to put in up front. In the legislation, worker-owners can put in "sweat equity" (non-monetary contribution or investment towards a company, often in the form of labor) to get their cooperative off the ground, instead of having to put in financial equity.
Worker co-ops in Chicago also struggle with the worker-owners maintaining control over their own cooperatives, which is connected to funding. Because of lack of funding, many coops have non-worker-owner investors that then have voting power. Current legal models for coops allow for a lot of control and participation by investors that might not be members. Coops also often have to spend money to solicit investors in the first place, so that capital gets displaced and then displaces them from having democratic control. The law was intended to provide both a shift in the relationship between worker-owners and investors and also to provide more access to more funding opportunities.
Who is organizing? How are people organized? What has been successful in this organizing project?
The Illinois Coalition for Cooperative Advancement (read more about them here) came together as a coalition of worker cooperatives, incubators/developers, economic justice organizations and other stakeholders in the cooperative ecosystem, with the purpose of creating more support for cooperatives in Chicago. They initially decided to come together specifically to rally around changing the state law around worker cooperatives. 
Coalition members describe the organizing as an imperfect but essential process. They worked to activate a wide variety of constituencies and represent the needs and interests of those people in the state legislatures. The Coalition had three sub-committees: legal, communications, and policy. They took a lot of trips down to the state house, worked to identify allies and what would bring diverse legislators into support for coops. They also spent a lot of time educating the legislators on the needs and ins and outs of worker cooperatives. There was no significant opposition to the bill and it passed relatively quickly and unanimously in both houses this past August. 
It is important to mention that this Coalition came together on a foundation of organizing for cooperatives and cooperation that has been happening in Chicago over the past decade. For example, worker centers in the city have been doing worker cooperative development, as an alternative service for workers, with high-touch incubation and support services. Additionally, the "Cooperation for Liberation" study & working group convenes people to learn together in deep study about the history of Black cooperation in many forms. The group exists to help people imagine new possibilities for Chicago that are grounded in the recognition that cooperative organizing has existed before, and that we can learn from this history. In groups like Cooperation for Liberation, people are asking themselves, how do we transform our communities and self-determine what we want to see? 
"It's also important to think about how to do this in the most inclusive and participatory way. Coalition is important. Coalition is complex, but so are we. Our communities have many different needs at once, and our work is to make it possible for them to all be attended to and incorporated into our governance. Coalition is necessary for creating well-rounded policies that won't damage one part of a community while it benefits the other." – Renee Hatcher
What are the benefits and impacts?
The law went into effect on January 1, 2020. So far, the impacts have been in the relationships built through the Coalition, which is continuing its work to support cooperatives throughout Chicago. For example, it is working  to get the city to provide more material resources to worker coops now that they can be recognized under law. At the same time, many worker cooperatives are actively working to convert to Limited Worker Cooperative Associations. Overall the policy work has raised the profile of worker co-ops in the city, which was another goal of the Coalition.
"Policy change of this kind is long-view. You have to be willing to imagine the future it's creating down the line, and see how our steps now make that possible. The more time you can give yourself to plan and be strategic, the better. It can be difficult because you're on the timeline of the state, and we know that our communities are on different timelines – in fact, we are trying to be. But if you plan in advance, we can create opportunities for ourselves beyond the timelines they set and the ones we see in front of us. We can make plans that open more space for this work in the future.   
It's ongoing. You want to come up with a process where you're crafting policy and getting feedback, and repeating that cycle over and over and over, before you're ever bringing it to lawmakers. We have to work to bring in all the things our people and the coops want to see – the legislators are not going to do that. We have to be responsible for each other." – Renee Hatcher